Mi India Celebrating 1st Anniversary,
Launch of Xiaomi in India, Personally I call it a kind of mobile revolution in India. It is the company who believes on spending small amount of money on marketing also they come with unique marketing style. Though their marketing strategy is not common now as most of other companies are following their footsteps. But because of this marketing they are able to sale devices of high specifications in a low price, I guess perfect word is "affordabe" here. With this marketing strategy and Innovations which everyone can enjoy, Mi India was launched on 15th July 2014 at an event in Delhi.
Today, Company is completing its 1 year journey in India
. Just before one year Hugo Barra ( V.P, Xiaomi Global) and Manu Kumar Jain (G.M, Mi India) had a media event where they announced Mi India officially. The Company started with a Small office in Bangalore,
Hugo himself posted this on his Google+ page
. According to his post Manu Kumar Jain and Myshkin Ingawale were the first 2 Mi India Staff that time,

Today, Mi India has staff of more than 30 people.

They started with small office in Bangalore but now they will be shifted to a very big and lavish office next month.

The success of the company in India can be concluded when they started their first sale with 10,000 units of Mi 3 and in just 6 months they sold total
1 Million smartphones in India
.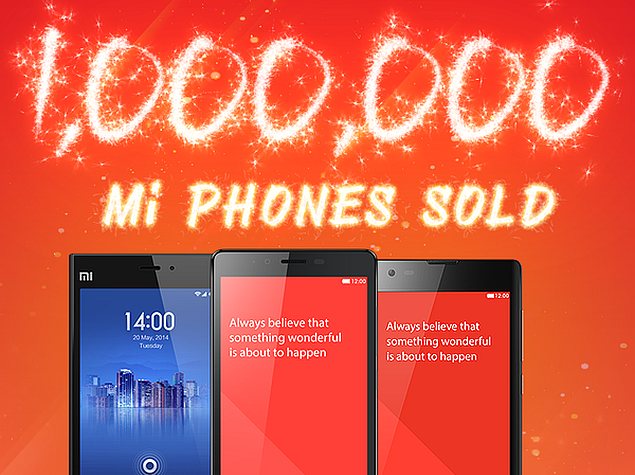 On the launch of Company, Hugo also launched Mi 3 and Redmi 1S in India. Just after 7 days Mi 3 was live on sale on 22nd July 2014. For the first sale of Mi 3 there were
1,00,000 registrations for 10,000 units
. Mi 3 is still one of the best device to grab it. In just 4 sales, Mi 3 received 4.5 stars rating on Flipkart. Hugo and Bin Lin (V.P, Xiaomi) were keen to know the services they provided and work on improvement if necessary.
For this Hugo and Bin Lin they themselves called few customers (Now Mi fans) for customer service quality
. Not just calls,
Manu Kumar Jain himself delivered few Mi 3 at the doorstep on their first sale
in Bangalore. After the "Mi-ghty" Mi 3 it was Redmi 1S who took the Budget Smartphone market with a strom. Bloggers quoated Redmi 1S as " King of Budget Smartphone". Specifications, Price, MIUI of Redmi 1S was the factor which gave tough time to all the budget smartphones. Redmi 1S is one of the Xiaomi device which had high demand. Each sale around 40,000-50,000 units were put on sale and those units use to get vanish in just 5-10 seconds and still lots of people could not get thier hands on it.

During Diwali Festival, Mi India arranged around 1,00,000 Units of Redmi 1S on flash sale even that time it went out of stock in mere seconds

. In fact popularity of Mi 3 and Redmi 1S was so high that there were lots of memes were shared and circulated on social media with a pic of Redmi 1s and Mi 3 and one quote " Not everything money can buy". After Redmi 1S it was time for Phablets to breathe in India. Yes, Redmi Note 3G and Redmi Note 4G was launched in India.
Redmi Note 4G is still on sale and
recently it got a price cut too
. Redmi Note 4G is perfect device for those who likes devices with big screen and with One Hand Operation of MIUI thise device is excellent in its category. Brilliant Specifications and Innovative operations and features of MIUI is also one reason for the popularity of device. After the Redmi Note devices it was time for the Elegant, Stylish, Powerful and one most hghly awaited device, The Mi 4. Mi 4 is among the most successful device of Xiaomi. Not just in India but all over the world Mi 4 shares a big market. Recently Xiaomi had success party for selling around 1 crore Mi 4 around the globe. This occasion was also celebrated in India in an
Fan met & blogger event
morever that day Mi 4 16 Gb got a attractive price cut. Redmi 2 was followed by Mi 4, Its the successor of Redmi 1S. Redmi 2 also created buzz in tech market with its performance and design. Device is light in weight and slim compared to Redmi 1S and has both 4G sim slots. Even Redmi 2 got a price cut recently of 1,000 INR in India and now available at 5,999 INR. All the above mentioned devices were launched in China and then they came to India. But this time it was
Mi 4i which was launched Globally at a grand event in New Delhi, India.
Mi 4i is powerful device with elegant design. It is light as feather and slim as supermodel, with dual sim 4G support on both slim slots. For this device Mi India made an offer which you can not reject, It is priced attractively and available in both grey and white colors now. Till now we spoke only about smartphones, Mi India did not restricted their sales to smartphones only in India. They also launched Mi Band in India. One of the best and affordable fitness tracker which has lots of features which is usefull for your day to day life.
Xiaomi ships 1,00,000 Mi band around the globe every month.
Achievements of Mi India are not limited to their device sales. Mi India is now among the TOP 5 companies to sale smartphones in India.
In coming few months Mi India will be manufacturing devices in India and follow the "Make in India" campaign of Prime Minister Narendra Modi of India
. They will have their own R & D centre in Bangalore. Success of Mi India reached to their peak when the most respected man of India and the well known business tycoon
Mr Ratan Tata invested in Mi India
. All these things Mi India just achieved in one year. It will be interesting to know the journey of Mi India in coming years.